THE SCENE:
JUJUY PROVINCE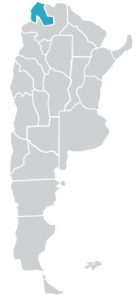 The ATICA Study is implemented in Jujuy (Argentina), a province with high cervical cancer mortality rate (10,6/100.000 in 2012-2014). 85% of the total population lives in urban areas and 51% are women.
The provincial health system has approximately 300 primary health care centers and more than 700 community health workers. These agents visit around 110,000 homes per year in order to promote health and disease prevention, such as cervical cancer. HPV testing was introduced in 2012 through the Jujuy Demonstration Project. Since then, it is the primary screening test and is available to all women aged 30 and over at public health centers. HPV self-collection is offered during the routine CHW home visits. Women who choose self-collection are instructed to go the health center in 30 days to pick up results. HPV samples are analyzed in the HPV Provincial Laboratory.
In Jujuy, HPV-testing as primary screening was introduced in 2012 through the Jujuy Demonstration Project. At present it is available for all women aged 30+ attending the public health system. 
In 2014, based on results of the EMA-Project, HPV self-collection was introduced as a programmatic strategy. Community health workers offer self-collection in home visits. Women are advised to go to health centers to get the HPV-test results 30-45 days after sample self-collection. Samples are analyzed at the provincial HPV laboratory.